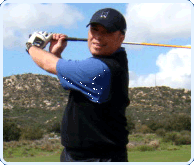 Michael J. Skala
Owner, STSS Golf, Inc.


STSS Golf was teed up and driven down the 10th hole on a beautiful course in San Diego, California after an abysmal front 9. On that calm, sunny mid-morning staring down the 9th fairway, wanting, needing, to play a better back 9, one thought entered my mind, "Stop Thinking, Start Swinging."... I birdied that first hole. I then eagled the next par 5 from 122 yards out and had 2 birdies and 4 pars to give me the best 9 holes ever.

After that round and many more rounds after, I began to ponder, "How can I get the word out, STSS, Stop Thinking Start Swinging?" Ah ha, golf apparel and accessories. I want to produce a line of golf apparel and accessories for all golfers that would inspire STSS. A clothing line that shouts style, comfort, and performance. A clothing line you can wear on and off the golf course or in and out of the office.

Coming summer of 2012 I will launch the first line of STSS Golf Apparel. These custom and exclusive shirts will only be offered on this website. Soon, to be complemented with matching hats, shorts, pants and accessories to give our discerning golfers a complete look.